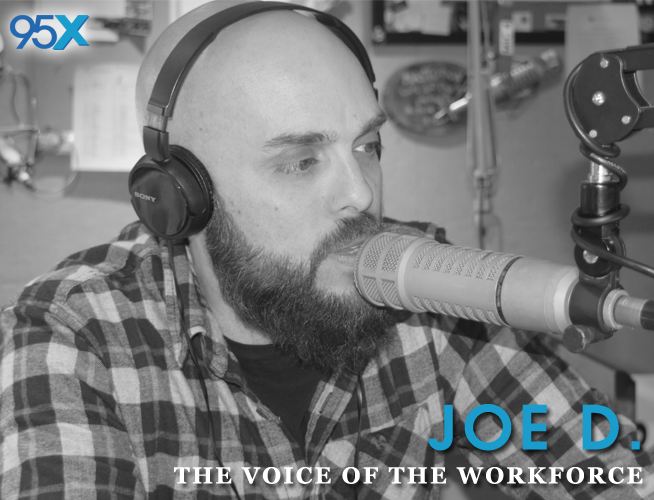 Listen to Joe D. weekdays 10 AM – 2 PM | The Showdown @ High Noon | Gamers Update
Joe D is a local guy through and through! He was born in Syracuse and has lived there his entire life. He got his start in radio back in 2003 kind of by mistake when he saw an ad for interns at 95X, thought it might be something fun to try and here he is all these year later, still doing it and loving every minute of it (Well almost every minute of it).  To say Joe is a music fan would be a huge understatement. He credits his Father for nurturing his love of music and grew up listening to the likes of The Beatles, Led Zeppelin and Chicago. His musical tastes just developed from there. Nowadays it's a heavy dose of Black Pumas, Manchester Orchestra, Silversun Pickups and too many others to list.
Joe D is married with 2 kids. His family is his world and he loves to spend as much time as possible with them. When he does get some time to himself, he loves playing video games, going on hikes around the area and fishing. Joe D is a Tampa Bucs fan, Yankees fan and of course loves the Orange!!  He's also a bass player who's been playing for over 25 years and has played in local bands, toured the country and still play's in a band around town just for fun.
Working in radio has provided Joe D the opportunity to get involved with a lot of great charities over the years including St. Jude, The Boys and Girls Club, ACR Health and so many more. Joe D says "Being able to give back to my community is one of the most rewarding parts of my job".
Be sure to connect with Joe D on social media
Facebook– 95xjoed
Twitter– 95xjoed
Instagram– joed95x