The Morning Mess with Marty & Shannon | Weekday Mornings 5:30 – 10 AM
On the Morning Mess with Marty & Shannon,  you can expect a lot of listener interaction and fun.  
We won't get too serious too often, but we will touch on important topics of the day.
We invite the listeners into our personal lives- all the stupid and crazy things that happen to us, are fair game for sharing on air.
Between the two of us, we have nearly 30 years on the air in Syracuse radio. 
The Central New York/Syracuse Area is the current hometown of Shannon who was born and raised here and Marty, who has been in the area for 18 years now.
---
About Marty & Shannon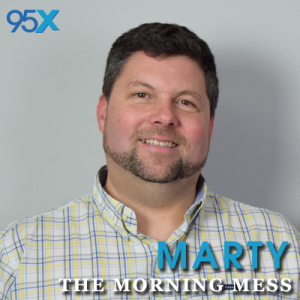 Hey it is Marty and I wanted to say thank you for stalking my bio! I grew up in Williamson, NY about 20 minutes North of Rochester and moved to Syracuse in 1998 to do radio, and I am still here! Other than my love for radio, I love my 3 amazing children, Tyler, McKenzie, and Mason! My hobby is racing! You will see me at all the local dirt tracks in CNY, and also at local kart tracks. I have raced karts for years, and now my son Tyler is racing karts. I am a sports nut, Football, Basketball, Baseball. My daughter plays softball so I spend a lot of time doing that with her. My youngest son Mason is 2 so I can't wait to see what his passion will be. I am blessed to be able to come into the radio studio and have fun with Morning Mess Nation every weekday morning 5:30 am to 10am! Thanks for listening to 95X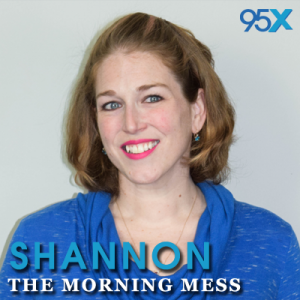 I graduated from F-M high school in 1996… SUNY Fredonia in 2000 and got my start in Syracuse radio somewhere in between graduations. I moved on to do radio in Boston, Baltimore, and Greensboro NC before coming back home in 2004. I remember thinking I couldn't wait to get away… and then how much I missed everything while I was gone. CNY is home and always will be.
I am a mom of 3 girls (2 from marriage, 1 from scratch).  I love my cats and their crazy names.  I love anything sci-fi and outer space… so Doctor Who, Star Trek, Stargate, Battlestar Gallactica- I'm in!
I think I've been tired for the past 10 years.  Most days there's more coffee in my blood than alcohol (most…).  Maple sugar and chocolate are non-negotiable.  I feel panic without an amazon delivery.  I forgot my phone at home once back in 2017… that was horrible.  Oh, and the toilet paper goes OVER not under.
---
Listen every Thursday during the baseball season in the 8am hour for the "95X Smorol of the Story!"  Featuring Syracuse Mets GM Jason Smorol!
---
Watch The Morning Mess Live Stream on YouTube
Listen to The Morning Mess On-Demand